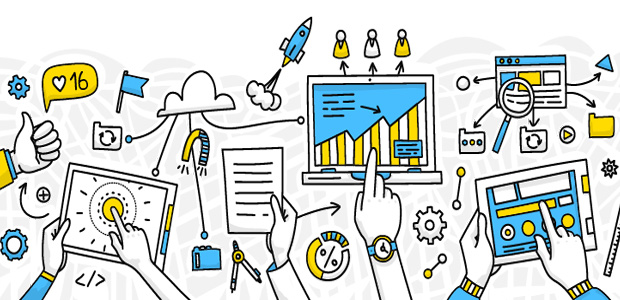 6 Strategic SEO Tips From the Experts to Get Massive Traffic in 2018
Are you up to date with the latest search engine optimization (SEO) tips?
If not, that's a big problem.
SEO means optimizing your content so it shows up more often in search results.
Get it wrong, and your content might as well be invisible.
But if you get it right, you can reap the benefits of increased traffic, which can lead to more conversions, improve lead generation, and boost sales.
And every business wants more traffic, leads and sales, right?
The trouble is that SEO ranking factors have changed a lot over the years (find out how in our keyword research guide). That means the search engine optimization techniques that worked 5 years ago won't fly today.
That's why we've recruited some expert help so you can make sure you're using the best SEO strategy for the coming year.
Our six experts share their favorite SEO tips and tactics for building big traffic in 2018. As you'll see, if there's one theme that unifies them all, it's creating better content, but some of our experts take their own unique approaches.
Ready for the SEO tips? Let's get started:
As Brandy once sang, "Almost Doesn't Count". We think Andy Crestodina would agree…
1. Improve the "Almost" Posts
Andy Crestodina: Rewrite the posts that almost rank high. There may be lots of them. Look for them in Analytics in the Acquisition » Search Console » Queries report. Set an advanced filter to show just the phases for which the average position (rank) is greater than 10 (on page two). Eureka!
Now give those articles an overhaul. Add details, examples, answers, statistics, images, contributor quotes and anything else that pages it a better piece.
If you go big on quality, you're very likely to add length and keyphrase usage naturally. Make it a page that you're so proud of, you want to print it and frame it on the wall.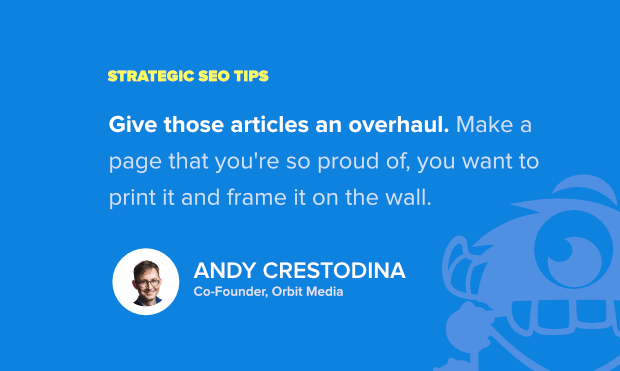 Here are three ways to make this tactic even more effective:
Check all the rankings of the page, so you're sure not to hurt the relevance for an even better phrase
As you rewrite, work in the semantically connected subtopics, which are visible on the search results page in the answer boxes and in the "related searches" at the bottom of the page.
Do this as a regular, quarterly content marketing audit.
Andy Crestodina is a co-founder and Chief Marketing Officer of Orbit Media, an award-winning 38-person web design company in Chicago.
Video marketing can be a huge traffic source, but some marketers are still ignoring its potential, says Shilpa Shah:
2. Tap the Potential of Video
Shilpa Shah: One of the best SEO tips is quality over quantity. If you have a large number of indexed pages, it doesn't always mean your site will attract more organic traffic.
Get rid of shallow posts on your blog that have either low word count or superficial content.
Focus instead on meaningful content that is truly engaging and makes each visitor want to read through the complete article.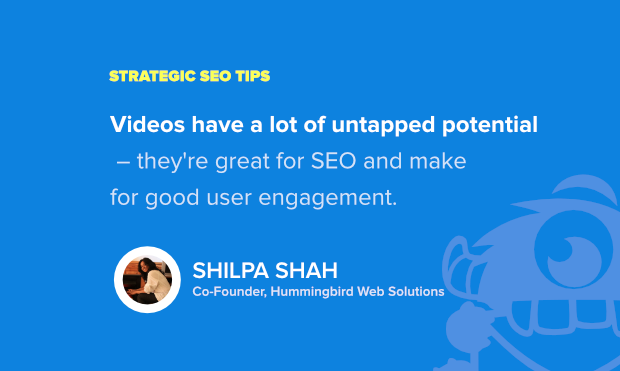 Also, videos have a lot of untapped potential – great for SEO and make for good user engagement. Chances are, that your user might quickly run through a 1-minute video but may not have the patience to read your 100-word article.
Shilpa is co-founder over at Hummingbird Web Solutions which owns the well-known WordPress Theme Store CyberChimps.com, WordPress plugin store WPeka.com and popular WordPress Slider plugin SlideDeck.com.
Looking for a different approach to search engine optimization tips? Ian Cleary has a unique spin on link building for SEO:
3. Build Something Useful
Ian Cleary: We are doing outreach to build links and have focussed on brand mention links.  When a brand mention us and doesn't link to us we reach out to them and generally get a link.  We get a lot of mentions online so we have an opportunity to really grow our link profile and generate substantially more traffic.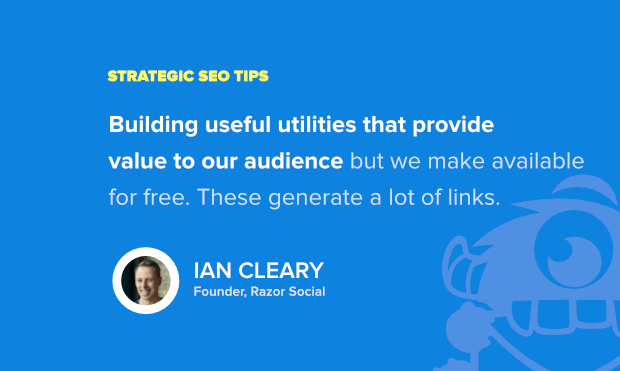 The other approach we are taking is building useful utilities.  This is pieces of software that provide significant value to our audience but we make available for free.  We then do a 301 redirect from the site with the utility back to our site and generate a lot of links.  We also do a lot of outreach to promote these tools.
Ian Cleary is founder of RazorSocial which is a Digital Agency with a popular technology blog.  He is also Co-founder of OutreachPlus, an email marketing outreach tool.
Heidi Cohen's SEO blog tips focus on doing more with your content:
4. Optimize, Amplify, Distribute
Heidi Cohen: To maximize 2018 SEO results, marketers will continue moving away from disposable, once and done content. To accomplish this, tap into the 4Cs of content: Conditions, Creation and Circulation to build your Community.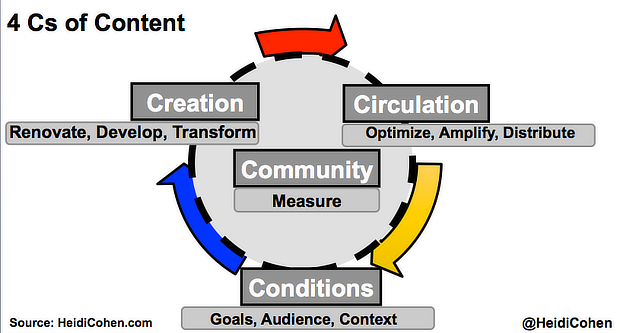 Create content based on your business's conditions (business goals, audience needs and content context) to achieve your 2018 SEO goals. Focus your content on strategic keyword silos.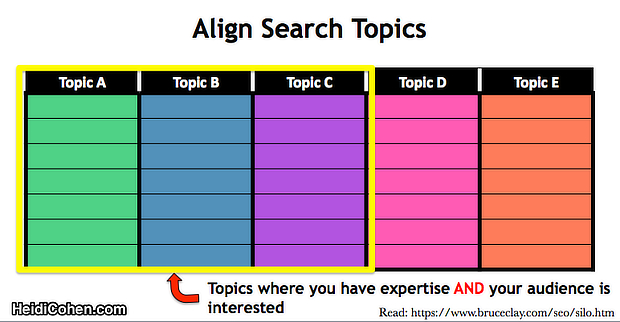 Support your 2018 search objectives with 3 content types:
Renovate existing content: Audit existing content. Then update and re-promote it.
Develop new content: Based on your content gaps and keyword needs, create the 5 core content types (foundational, FAQ, cyclical, crowd pleaser and long-playing content) to meet audience and business needs.
Transform new content: Extend content longevity by converting content into other formats (images, video and audio) and related pieces of content to live on owned, social and third party media.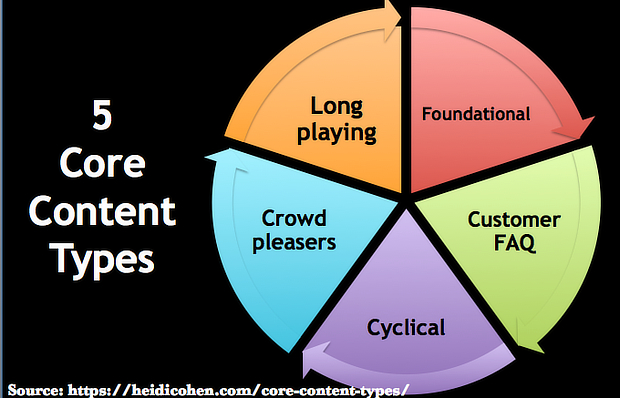 Support your 2018 search engine optimization objectives by circulating your content.
Optimize your content. Make your content work for customers, social media, search, influences and your business. Create off-ramps to collect email addresses.
Amplify your content. Focus your first 3 days of promotion to maximize reach. Use amplification platforms, influencers and paid advertising (especially Facebook).
Distribute your content. Continue promoting your content on free and paid media. Publish your transformed content over time to maximize results.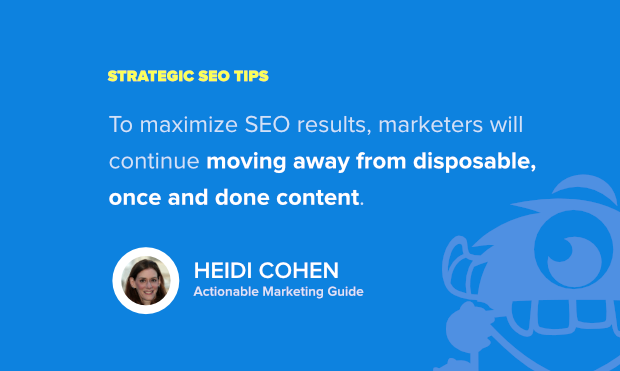 Lastly measure your results and support your growing community.
Heidi Cohen is the Chief Content Officer of the award winning Actionable Marketing Guide, focused on social media, content and mobile marketing.
When you're thinking about how to do SEO, don't ignore your users, says Max DesMarais:
5. Maximize User Engagement
Max DesMarais: Focus on user engagement. Whether it is updating an existing post, or creating an entirely new one, the page should be created in such a way to maximize engagement. The page should:
Be easy to read. Content utilizes whitespace, headings, short paragraphs, and relevant images to make the page easier to absorb, and increasing the user's time on the page.
Include highly relevant links and offers on the page. Offering relevant internal links that will answer a reader's question. This often can significantly decrease bounce rates, and get users further into your site.
Use LSI keywords, and answer additional questions that users may think of after viewing the content. Simply offering only the content that a user searches for is no longer enough. Pages need to supply additional information a user may be seeking. Providing additional information will help retain the user, and tell search engines that the page's content is not only answering the search query, but providing additional value that other pieces of content may not be.
Contain multiple ways for users to absorb the content. Include images, infographics, video, and text. This will capture readers' attention, and keep them more engaged on the content.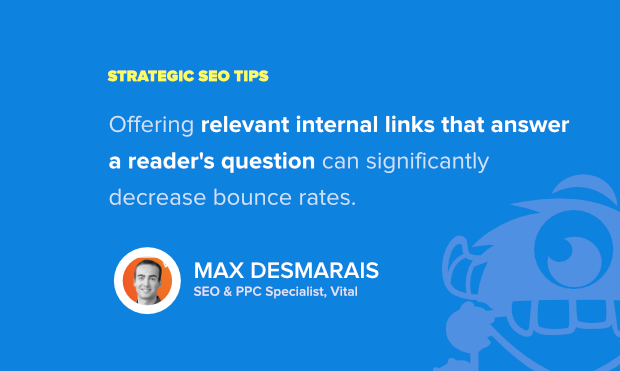 Employing these tactics will ensure that your pages are highly valuable to the readers, and search engines will mark these pages as high quality content.
Max DesMarais is an SEO & PPC Specialist for Vital, a Digital Marketing & PPC agency that specializes in PPC management services.
Finally, Susan Greene says don't just focus on SEO basics for new content, but for old posts, too:
6. Make Old Blog Posts New Again
Susan Greene: For years I'd been pumping out posts for my blog on copywriting. I covered everything from How to Write a Killer About Us page to Tactics for Success as a Freelance Copywriter. Those posts had helped me secure high rankings on Google for my preferred keywords. But I recently realized I was missing out on an SEO opportunity.
I was so focused on creating new blog posts that I'd never gone back and refreshed my old ones. They still contained plenty of useful information, but some of it was outdated. Time to get busy!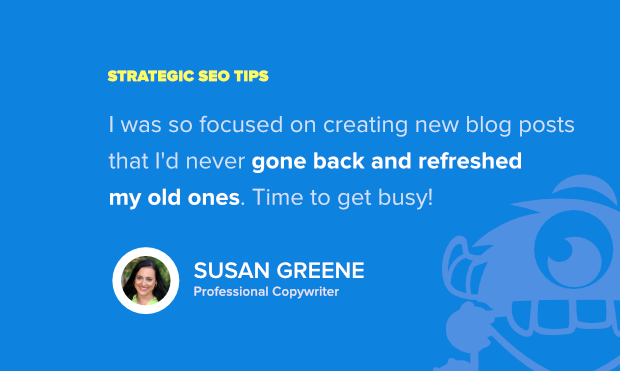 With SEO in mind, I now routinely go through old blog posts and do the following:
Update any information that's no longer accurate or relevant.
Add new stock photos and remove any old ones that looked dated.
Write/optimize title and alt text for all images.
Rework old titles to be more SEO-friendly.
Add subheads to posts that have none, using keywords when possible.
Review title tags and meta descriptions for keywords and relevance.
Weave additional keywords into posts that seem lacking.
Check existing links to make sure they still work and add links to newer pages that are relevant.
Lengthen posts by adding more detailed content as Google now favors longer, information-rich pages.
Proofread for mistakes. It's amazing what you can catch with fresh eyes.
Susan Greene has been a professional copywriter for over 25 years. She has a deep understanding of Internet marketing and a conversational writing style that converts prospects into customers. 
That's the end of our roundup on search engine optimization tips and tricks.
Over to you to put these SEO tips into practice. When you're done, make sure your new strategy is working by checking out our guide to measuring content marketing ROI.
Call Elkmont Media for all of your digital marketing needs, including: social media, website design, SMS, text message marketing, video, and email marketing.
Comments are closed.